Kensington's Public Art
Kensington hosts a treasure trove of public art projects and strives to foster and sponsor art throughout our area with sculptures, sidewalk art, murals and art installations.
Click on an image below to learn about each mural or art installation.
If you have an idea for an art project, we would love to hear from you! Contact us by email at [email protected]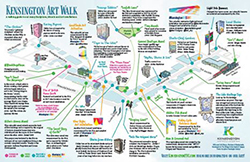 The Kensington Art Walk Map is now available for download!
We're so pleased to provide this printable
Art Walk Map for Kensington – come and explore the over 30 installations and murals in the area!
Location: 417 - 10th Street NW This vibrant, illuminated hoarding mural was...