Member Covid-19 Resources
Welcome to Kensington
With over 250 businesses, Kensington is one of Calgary's most vibrant communities.
Whether you want to bike along the river, stroll the neighbourhood while sipping some of Calgary's finest coffee or spend the night listening to live music – Kensington has it all! Considered Calgary's Urban Village, Kensington offers a unique, inner-city experience. Located just off the Sunnyside LRT Station and walking distance from downtown, it's possible to spend an entire day exploring the shops and restaurants, or an entire weekend by staying at one of the beautiful boutique hotels.
Over 245 businesses offering
dining, shopping & services
Surrounding population of
 10,000+ residents
3,000 people employed
by our member businesses
Social Distancing & Safe Shopping
If you are visiting our shops and eateries, we encourage you to practice safe social distancing by staying 2M away (two arm's lengths) from others you meet in public settings. Learn more: Social Distancing Practices
Kensington Announcements!
Full BIA Levy Paid for by City of Calgary!
To support businesses during the COVID-19 pandemic The City has applied a BIA tax credit towards the entire 2021 BIA tax levy for our Kensington Member Businesses! The BIA tax credit funding is equal to the total 2021 BIA tax levy.
Learn more about  through these links:
City Council has approved waiving business license-related fees for a period of two years to support 40,000 businesses in Calgary as they continue responding to the challenges arising from the pandemic.
Learn More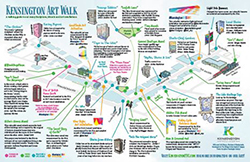 The Kensington Art Walk Map is now available for download!
We're so pleased to provide this printable
Art Walk Map for Kensington – come and explore the over 30 installations and murals in the area! You can download the map and find out more about each installation on our
Art Page here.
Exciting News: Bow-to-Bluff Construction Starting!
Bow-to-Bluff began as a citizen-led initiative focused on transforming the neglected spaces along the LRT line between the Bow River and McHugh Bluff into a green necklace of mini-parks.
Out of this award-winning engagement process, we created a design that focused on community vibrancy, safety, and beautification. 

The Kensington BIA has supported and engaged with HSCA and the City of Calgary throughout this project. We are so pleased to see it funded and getting started this spring!
Learn about the City's plans and construction of Bow-to-Bluff
The City want's your feedback!
The City of Calgary is undertaking three new projects our area! The City is seeking your feedback on each of these three projects. Click on the links below to visit the engagement pages for each project and to provide your feedback: 
These projects are all part of the Established Area Growth and Change Strategy. They are part of an effort to invest in our existing communities, so they can be vibrant and successful for decades to come, and to support communities and local businesses where growth and change are happening and anticipated to happen.
Opinion: Bravo to city council for showing leadership on Calgary's downtown revitalization
Annie MacInnis – Calgary Herald – Apr 30, 2021
Great leaders have the courage to take leaps of faith to achieve their goals.
Calgary's city council and administration were those leaders this week. Approval of the downtown strategy is a bold move, a risky move, a visionary move and the right move.
The Downtown Revitalization Strategy represents the culmination of years of hard work to mitigate the economic disaster devastating Calgary's economy since 2015 when oil prices collapsed and a property tax crisis ensued.
Continue Reading
Our eNewsletters provide the most up-to date information, resources and opportunities for our member businesses written by our Executive Director, Annie MacInnis
Sign up for our eNewsletter:
Annie MacInnis - Calgary Herald - Apr 30, 2021 Great leaders have the courage to take leaps of faith to achieve their goals. Calgary's city council...
read more
"One of my favourite communities in Calgary! Great for strolls, shopping, dining…you name it, Kensington's got it!"
"It's the perfect community for dining, shopping or just walking around. So many great local businesses!"
"Always glad
we chose Kensington to build our business."
~ Mike, Sidestreet Pub
"I love Kensington. I've been visiting it for 20 years and although it keeps getting better, I love how it still has the same welcoming feel."